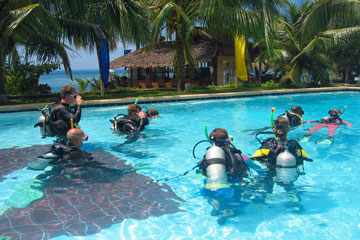 Scuba diving provides the participant with the chance to explore the underwater world and encounter a variety of sea life in their natural habitat. Scuba diving certification is something that can be achieved by anyone over the age of 12 years who is reasonably fit and in normal health. Students should be comfortable in the water and be able to swim 200 yards nonstop on the surface of the water and 25 feet underwater without pushing off.

The minimum requirements for an entry-level training course include at least four classroom sessions, four or more pool sessions and at least four scuba dives in open water, equaling 30 to 40 hours of instruction. Sessions may be taken over a period of several days or spread out over several weeks. After training and completion of proficiency testing, students receive a C-card. This card usually does not need renewal, but the British Standards Institution's recreational diving committee recommends a refresher course after periods of 6 months or more of inactivity.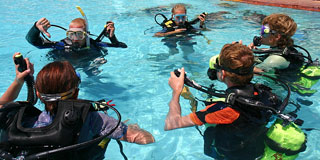 Scuba diving trainers should be sanctioned by a national diver training organization, and can be found through professional diving schools, as well as through courses offered by universities, community colleges, and recreation departments. Most certification courses average $200 to $300 and loan out necessary equipment such as wet suits and oxygen tanks. Smaller items such as a mask, snorkel, fins, boots, and gloves should be purchased by the student.
As with all things in life, scuba diving comes with risks, but these can be mitigated through adequate training and adherence to basic guidelines. To avoid the formation of nitrogen bubbles in the blood, divers must pay close attention to depth and avoid rapid ascension. Scuba diving opens up a fascinating world where the participant can view a variety of marine plants and animals up close, and with the proper training and adherence to safety, it provides a recreational experience unlike any other.
For more information about diving instruction and safety issues, visit the Professional Association of Diving Instructors and Divers Alert Network websites.
Related Directory Pages
---
About Scuba Diving Instructors and Diving Lessons